Pediatric Physical Therapy Services
Improved strength, coordination, and balance skills in kids
We combine our passion and knowledge for better patient-outcomes
Are you worried your baby is not yet crawling or walking? Does your child have balance or coordination difficulties or demonstrate weaknesses or changes  in posture? Does your child demonstrate difficulties keeping up with their peers? An expert pediatric physical therapist at KidSense can help. Located in Milford and Danbury, Connecticut, we offer physical, occupational and speech therapies as well as mental health services under one roof.
Pediatric patients vary from newborns to teenage competitive athletes, specifically 0 to 18 years old. Our pediatric physical therapists can help to improve a child's motor development, strength, range of motion, balance, coordination, gait skills, and improve their functional endurance. We aim at enhancing the lives and everyday functions of children recovering from a variety of injuries as well as those with congenital diagnoses. While working with the children and their family, we help each client attain their full potential, while encouraging independence, and promoting an active involvement in the home, school, and community environments.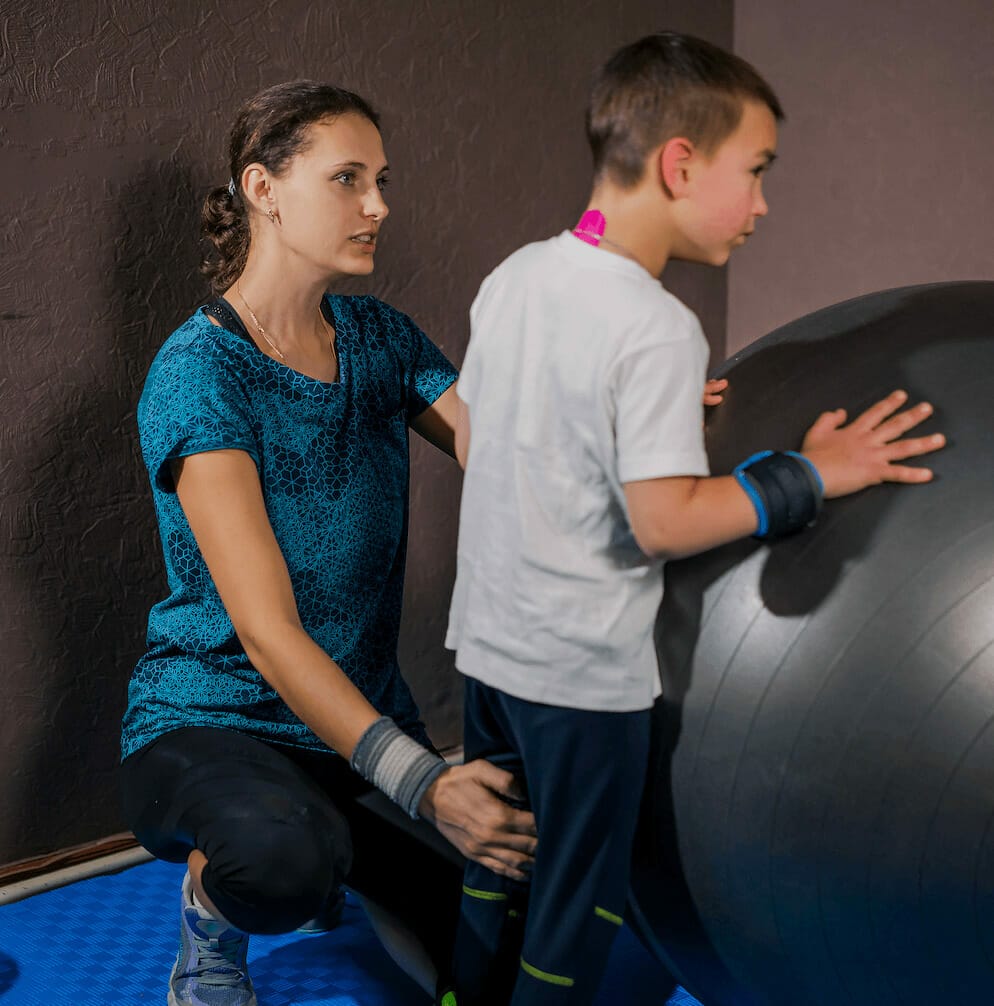 The goals of Physical Therapy at KidSense are as follows:
Enhance range of motion
Increase strength
Improve alignment
Improve balance
Improve coordination and motor planning
Increase endurance
Achieve developmental milestones
Pediatric Rehab Therapy for a Variety of Conditions
We maximize the function and enhance the lives of children with a variety of conditions and injuries such as:
Neurological Disorders
Developmental Disabilities
Orthopedic Injuries
Coordination Difficulties
Muscle Weakness and Decreased Strength
Torticollis
Gross Motor Difficulties
Gait Training
Balance
How do I Know if My Child Needs Physical Therapy?
The following are some of the signs which indicate that your child needs physical therapy:
View Developmental Milestones
Pain from Injuries
If an injury impairs a child's ability to accomplish tasks due to pain or limited mobility they may need physical therapy. Injuries can be either sports-related or non-sports-related. Some of the most common sports injuries are bruises, broken bones, fractures, spinal cord injury and overuse injuries. Physical therapy helps children recover from such injuries or avoid them in the first place.
Mobility Difficulties from Developmental Delays
Developmental delay refers to when a child is not gaining the skills expected for their age  as compared to other children of the same age. We provide pediatric therapy services to children of all ages experiencing mobility difficulties from developmental delays. Some of the common symptoms indicating developmental delays are low muscle tone, decreased strength, floppy or stiff limbs and walking instability.
Muscular Weakness due to Genetic Conditions
Physical therapy is required for children who experience poor motor coordination planning – which is the ability to think of and carry out a motor act, such as walking up stairs, riding a bike, or completing an exercise.
Coordination Difficulties due to Nerve/Muscle Conditions
Children suffering from genetic disorders like Down Syndrome often require physical therapy for improving muscle strength, balance and coordination.
Why Choose KidSense (Milford and Danbury, CT) for Pediatric Physical Therapy
Quality Care, Faster Recovery and Lasting Results
Comprehensive Treatment

: Our pediatric rehabilitation team specializes in the treatment of clients who are experiencing functional impacts as a result of injuries or developmental needs.

Well-equipped Facility

: Care is given in a cutting-edge, child-friendly, and secure facility.

Multidisciplinary Approach

: Our diverse team consists of pediatric rehabilitative and habilitative therapists in occupational therapy, physical therapy, feeding therapy, speech-language therapy, and mental health. We deliver each plan of care tailored to your child's individualized needs.
Holistic Care

: Adaptive games, arts and crafts, and interactive videos and computer games improve participation and therapy while also providing peer-to-peer support to encourage children to take part in their progress.

Collaboration with Professionals at School:

Our clinicians act as a client advocate, ensuring that education continues across different environments. Our therapists work as a communication link between teachers, parents, physicians, and other professionals who are involved with our client's client care.
High Success Rate

: Patients and their families routinely assess their care as excellent or very good.
What is Involved in Physical Therapy Evaluation?
Our evaluation process is comprehensive, in-depth and child-centered
The initial evaluation consists of formal assessments and parent interviews. The parent interview is an opportunity for you, the parent/caregiver, to express your concerns and request assistance in areas where your child is having difficulty.
The examination will include a postural evaluation, pertinent orthopedic checks, and an assessment of skill set using age-appropriate, dynamic pediatric assessments. The therapist carefully considers all of this information in light of how a parent describes their child's strengths and weaknesses and an individualized plan of care is created.
Physical Therapy Treatment
Maximize your child's participation in everyday activities with our expert treatment and dedicated care
Our physical therapy includes, but is not limited to the following: 
Exercise intervention

Gym program instruction

Return to sports program

Reflex integration

McKenzie Method spinal treatment

Mulligan spinal treatment

Parent/ Caregiver education
Resources do not supplement an evaluation and treatment plan created by a licensed therapist and should be used for informational purposes only.
Read up on Pediatric Physical Therapy Services
KidSense Locations
KidSense Therapy Group has two convenient locations in Milford and Danbury CT which serve our greater New Haven County area as well as the greater Fairfield County area. Both locations are fully staffed with therapists as well as administrative professionals.
Skip to content